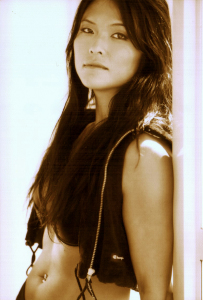 About Anna Wong
Anna Wong is one of the most sought-after fitness trainers out of Vancouver, B.C., Canada and is listed as one of the "Top Personal Trainers in the World". Anna is a personal trainer for over 20 years and has over 25,000 hours of direct client training. She has been interviewed on TV and radio and has been featured in a number of magazines and newspapers, including Oxygen, The Vancouver Sun, Best Health and BC Business Magazine. In 2008, she graced the covers of both The Georgia Straight and Westender. An 8-foot tall fitness poster of Anna was created for the movie Best in Show and can be seen in the film.
Emmy-award winner Keenen Ivory Wayans of the FOX hit TV series In Living Color calls Anna "Trainer Extraordinaire". Anna has trained clients for film, television, concert tours, dance competitions, professional fight competitions, over 20 magazine covers, and more. The bodies of her work have even been replicated into comic books, toy action figures and Xbox™ video games. Her clients have also been featured on lists like "50 Most Beautiful People", "50 Sexiest on the Planet", "101 Most Influential" and Maxim magazine's "Hot 100". Her celebrity clients include Keenen Ivory Wayans, two-time Juno award-winning hip hop artist Maestro Fresh Wes, country music star Jessie Farrell, Hollywood actress Emmanuelle Vaugier, and actor Keith Hamilton Cobb, just to name a few. Anna's clientele includes people from all walks of life of different backgrounds, ages, body types and fitness levels. Shaping bodies to be their best on- and off-screen has her clients coming for training from across the globe.
Anna was born and raised in Auckland, New Zealand. At the age of 19, she survived a near-death car accident that left her with severe injuries to her limbs, head, neck and back. She was faced with the possibility of never walking again. Hospitalized for over a month and undergoing several operations, her will and determination to recover led her on a pursuit for healing and a career as a fitness trainer.
Recognizing the importance of mental and physical strength, Anna's approach to training is holistic. She combines ancient and modern methods with Eastern and Western disciplines in her teachings. Her work has helped shape bodies, empower minds, change lives and save lives. The secret behind her methods are the keys to her success.
Anna is a certified personal trainer with ACE and BCRPA and has an additional 70 fitness certifications to her credits. ACE (American Council on Exercise) is the largest personal trainer certification in the world and is internationally recognized.
Begin your journey with Anna to transform your body and your life. The training experience is a powerful one which will also deepen your relationship with your self and how you think, live, and see the world.
With Anna Wong, be ready to be your best!