A HEALTHY LIFESTYLE CHECKLIST
Posted March 10th, 2015 at 8:40 pmComments Closed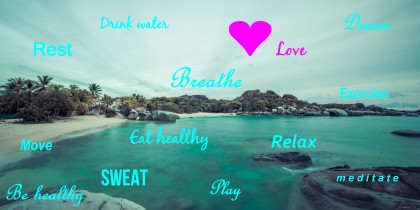 A HEALTHY LIFESTYLE CHECKLIST
Are you eating healthy, do you exercise, do you get enough rest, are you sleeping well, are you living a balanced life, do you live stress-free? All of these factors contribute to a healthy you. Here is a checklist for a healthy and happy life.
• Breathe in fresh air.
• Drink clean water.
• Eat healthy. Choose fresh, natural, organic, unrefined and unprocessed foods.
• Spend time outdoors.
• Exercise regularly.
• Take time out to meditate.
• Do what you love.
• Do things that stretch your mind and inspire you to be better.
• Be around people that you enjoy.
• Balance your life of work, rest and play.
• Get a good night's sleep every night.
• Be loving, kind, and compassionate.