Thai Basil Garlic Ginger Sauteed Chicken with Coconut Rice
Posted March 10th, 2015 at 8:46 pmComments Closed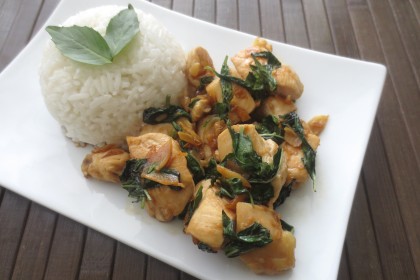 THAI BASIL GARLIC GINGER SAUTEED CHICKEN WITH COCONUT RICE
Thai basil chicken is a popular dish in Thailand. Here is my version using very minimal ingredients without sacrificing flavor. This recipe is definitely one of my favorites. It's fast, easy and deliciously fragrant. Enjoy!
Ingredients
Thai Basil Garlic Ginger Sauteed Chicken
• 1 whole skinless boneless chicken breast (about 8 ounces), chopped in bite-sized cubes
• 1 tbsp grapeseed oil
• 4-6 cloves of garlic, finely chopped
• 2 tsp fresh ginger, finely sliced
• 1 cup fresh Thai basil leaves
• 1 tbsp Tamari or soy sauce
• 4 tbsp filtered water
• Sea salt to taste (Optional)
• Optional: 2 tbsp crushed peanuts or cashews for garnish
Coconut Rice
• 1 cup Jasmine rice
• 1 cup filtered water
• 1 cup coconut milk
Directions
Coconut Rice
1. Wash and rinse rice thoroughly with cold water. Drain.
2. In a medium saucepan, add rice, water and coconut milk. Give it a quick stir to even the mixture.
3. On the stovetop, bring rice to a boil and then immediately reduce heat to low for a low simmer. Cover and let simmer for 18-20 minutes. Turn off heat and let rice sit for 5-10 minutes.
Thai Basil Garlic Ginger Sauteed Chicken
1. Heat oil in a pan on medium-high heat for 1 minute.
2. Add garlic and ginger and sauté for 1 minute.
3. Add chicken and sauté for 3 minutes.
4. Mix soy sauce with water. Add into the pan and saute for another 2-3 minutes.
5. Add fresh basil leaves and sauté for another 1 minute.
6. Add sea salt to taste. (Optional)
7. Serve and enjoy!
8. Optional: Garnish sautéed chicken with crushed peanuts or cashews.
Makes 2 servings